Supports weight reduction as part of an energy-reduced diet
Reduces appetite to help you feel full longer and manage food cravings
Brings blood sugar to normal levels
Lowers total cholesterol levels
Provides a healthy and nutritious meal replacement
Overview
RealEasy with PGX Whey Meal Replacement shake combines PGX with high-quality whey protein, vitamins, minerals, lecithin, and medium-chain triglycerides to help you feel full longer, bring blood sugar to normal levels, and help reduce cholesterol. Available in three flavours, chocolate, strawberry and vanilla, these meal replacement shakes are delicious and satisfying for an easy way to trim down. 
Medicinal Ingredients
Whey protein [milk], Soy lecithin, PGX polysaccharides complex (glucomannan, xanthan gum, sodium alginate), Xylitol, Organic cane sugar, Medium chain triglycerides, Dicalcium phosphate dihydrate, Potassium citrate, Microcrystalline cellulose, Magnesium citrate, Beet root powder, Sodium chloride, Calcium citrate, Citric acid, Ascorbic acid, Zinc citrate, Niacinamide, Biotin, Ferrous fumarate, d-Alpha tocopheryl acetate, Beta-carotene, Copper chelate, Molybdenum citrate, Selenium chelate, Manganese citrate, Calcium pantothenate, Folic acid, Thiamine hydrochloride, Pyridoxine hydrochloride, Riboflavin, Vitamin B12, Potassium iodide, Chromium chelate, Vitamin D2, Natural flavours.
Advanced Info
It can be difficult to maintain a healthy body weight when you struggle with erratic blood sugar, uncontrolled hunger, and food cravings. RealEasy with PGX Whey Meal Replacement shake combines the clinically supported weight loss benefits of PGX (PolyGlycopleX®) with high-quality whey protein, a full range of essential vitamins and minerals, lecithin, and medium-chain triglycerides (MCTs).
PGX is a blend of naturally occurring, water-soluble plant fibres produced through Natural Factors' proprietary EnviroSimplex® process. By absorbing water at a higher rate, gram for gram, than regular dietary fibres, PGX helps promote a feeling of fullness to reduce appetite. It also helps release glucose into the bloodstream gradually and brings blood sugar to normal levels. It provides a highly effective way for anyone dealing with uncontrolled blood sugar to manage cravings and lower cholesterol levels naturally.
Every serving of RealEasy with PGX provides 25 g of protein and a range of optimum nutrients to support healthy weight loss. The chocolate-, strawberry-, and vanilla-flavoured shakes taste delicious and can easily replace 1–2 meals per day. Simply add two scoops of RealEasy powder to 250–500 mL of water and shake or blend until smooth. It's real easy to trim down!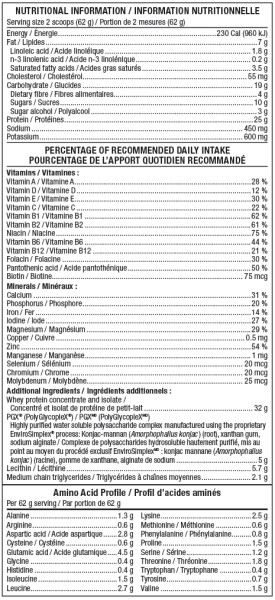 Domestic orders within Canada over $150 are eligible for FREE shipping! For all other orders an easy, flat rate, shipping fee of $9.99 will apply during checkout.
We offer international shipping anywhere in the world. Shipping will be calculated based on shipment weight and size. We do not charge any additional fees for handling or packaging material.