Description
VitaVegan is a 100% vegan-friendly multivitamin designed to complement a vegetarian or vegan diet. Formulated to allow vegetarians and vegans to meet their daily nutritional requirements of all essential vitamins, minerals and trace nutrients, VitaVegan is free from animal products and never tested on animals. VitaVegan also contains healthy omega-3 from organic hemp oil as well as highly bioavailable forms of vitamin B12 and iron.

Features:

Vegan
Gluten Free*
Lactose Free
Natural
Soy Free
Peanut Free
* Products are manufactured without gluten but not tested.

Key Ingredients:

Iron:

 

an essential co-factor in the production of enzymes and red blood cells that is a difficult nutrient to obtain from a plant-based diet. Iron found in VitaVeganTM is a form chosen because it is easier for the body to absorb.
B12:

 

vegan diets lack a reliable source of vitamin B12, creating a deficiency that may result in pernicious anemia.
Hemp oil:

 

one of the best nutritional oils for health because its essential fatty acid (EFA) profile is closest to that required by the human body. Cold pressed unrefined hemp seed oil has a ratio of 3:1 omega-6 and omega-3 fatty acids.
Vitamin D:

 

an essential factor in bone health, immune function and a healthy cardiovascular system. A vegan/vegetarian diet may not provide adequate levels of vitamin D to maintain optimal health. VitaVeganTM provides a generous amount of vitamin D to ensure adequate intake of vitamin D even in the winter months.
Ingredients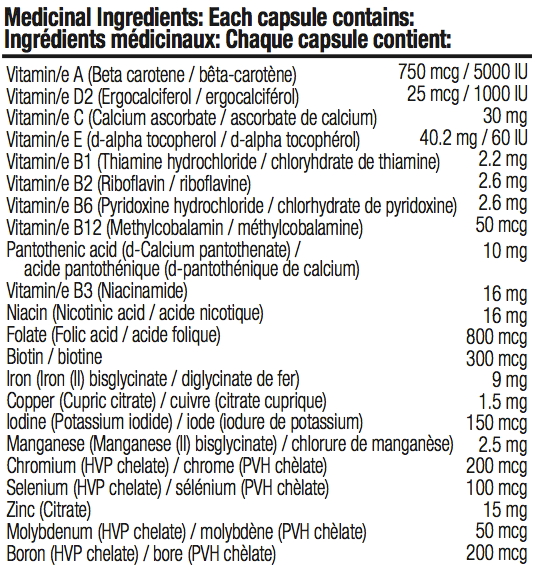 Non-Medicinal Ingredients: Hemp seed oil, sunflower lecithin, rosemary extract, parsley seed oil, glyceryl monostearate, silica.
Capsule Ingredients: Cellulose, chlorophyll, purified water.

Caution: Keep out of reach of children. There is enough iron in this package to seriously harm a child.
Suggested Use

Recommended Adult Dosage: One capsule daily with a meal.
Domestic orders within Canada over $150 are eligible for FREE shipping! For all other orders an easy, flat rate, shipping fee of $9.99 will apply during checkout.
We offer international shipping anywhere in the world. Shipping will be calculated based on shipment weight and size. We do not charge any additional fees for handling or packaging material.