Description
NutraSea is beneficial for the maintenance of good health, and in support of cardiovascular health and brain function. It is also beneficial in the development of the brain, eyes and nerves in children and adolescents.

Features:

Formulated for overall health and well-being
1250 mg of EPA+DHA per serving
Great tasting omega-3 supplement
Directions: Adults and adolescents 14 years and older take 1 tsp. (5 ml) daily. Children 2- 13 years take 1/2 tsp. (2.5 ml) daily.

Ingredients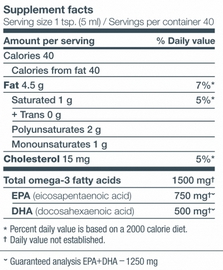 We offer international shipping anywhere in the world. Shipping will be calculated based on shipment weight and size. We do not charge any additional fees for handling or packaging material.
Domestic orders within Canada over $99 are eligible for FREE shipping!