Kelp is a large, leafy brown algae that belongs to the seaweed family and grows in the colder waters of the world's oceans. It is a good source of marine minerals, including potassium, magnesium, calcium and iron. It is also an excellent source of iodine, which has been shown to support healthy thyroid function. Your thyroid gland is responsible for producing the hormones that support normal cellular metabolism. As with most green foods, kelp also contains vitamins and cell salts essential for good nutrition.

Features:
100% Pure Powder
Rich in Natural Iodine
Supports Thyroid Function
Green Super Food
Vegetarian/Vegan Product
Delivers the natural nutrient profile found in Genuine Whole Foods
Entire contents derived from natural marine sources
Suggested Usage:
As a dietary supplement, take 2 level scoops (200 mg) daily, preferably with meals.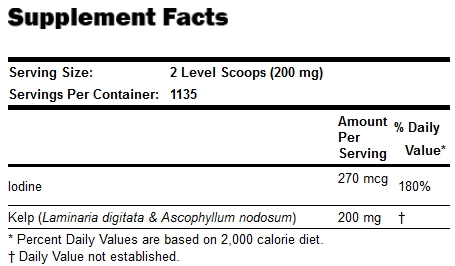 Other Ingredients:
None. 100% Pure & Natural.
Contains No:
Sugar, salt, starch, yeast, wheat, gluten, corn, soy, milk, egg, shellfish or preservatives.