Ener-C Multivitamin Drink Mix is a deliciously effervescent and all natural product flavoured with real fruit juice powders, and contains no artificial flavours or colours. Take 1-2 packets daily to improve immunity, and live better every day. Each time you drink an Ener-C, you're getting the benefits of consuming real fruits along with your vitamins and minerals for immunity, hydration, travel and everyday activities.
Mix with 4-6 ounces of water

Watch it fizz

Drink & be refreshed
Real Fruit Juice Powders
A, C, E & B Vitamins
Electrolytes
Caffeine Free
No Artificial Flavours or Colours
No Modified Corn or Food Starch
Certified Non GMO
Vegan
Gluten Free 
Directions: Empty contents into a glass. Add 4-6 oz. of water.

Suggested Use: For adult use only. As a dietary supplement, take one packet up to two (2) times a day with food. Take a few hours before or after taking other medications. Consult a health care practitioner prior to use if you are pregnant or breastfeeding.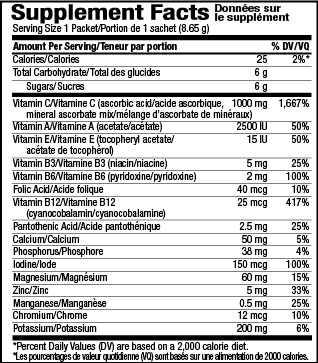 We offer international shipping anywhere in the world. Shipping will be calculated based on shipment weight and size. We do not charge any additional fees for handling or packaging material.
Domestic orders within Canada over $99 are eligible for FREE shipping!