DESCRIPTION
A Hormone Specific™ Formulation of phytoprogesterones, progestogenic adaptogens and functional mimetics of progesterone. This formulation is designed to maintain the health of progesterone producing glands and support the healthy function of progesterone responsive tissues.

The synergistic combination of specific herbs in ProgestoMend™ support important functions associated with optimal progesterone health:

Supports the natural production of progesterone
Support healthy adrenal function, a major site of progesterone production.

Promote progesterone response in target tissue through the use of herbs with progesterone receptor agonist activity.

Promotes healthy function of bone, heart, brain, breasts, uterus & other progesterone sensitive tissues with progesterone mimetic herbs.
Support healthy inflammation, antispasmodic and anxiolytic properties of progesterone with progesterone mimetic herbs.

Supports healthy brain function, memory, and cognition, and enhances mood while promoting tranquility.
Indications: ProgestoMend™ may be a useful dietary supplement for individuals wishing to support healthy progesterone production and function.
INGREDIENTS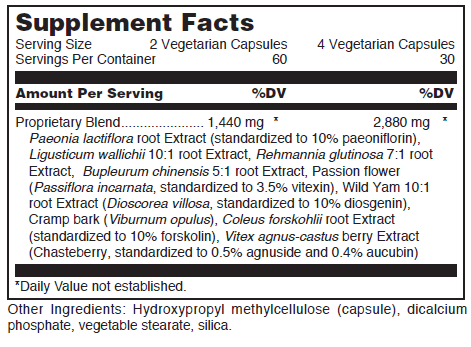 WARNING: If you are pregnant or nursing, or if you are taking prescription medications, consult your healthcare professional before using this supplement.
This product contains NO yeast, wheat, gluten, soy, milk/dairy, corn, sodium, sugar, starch, artificial coloring, artificial preservatives or genetically modified organisms (GMOs).
SUGGESTED USE
Suggested Usage: As a dietary supplement, adults may take 2 capsules each day with food for 1 to 2 weeks or as directed by your healthcare professional.
The dose may then be increased to 4 capsules each day with food for 2 to 4 months or as directed by your healthcare professional. After 2 to 4 months dosage may be lowered back down to 2 capsules each day with food and may continue on that dosage as needed or as directed by your healthcare
professional.
We offer international shipping anywhere in the world. Shipping will be calculated based on shipment weight and size. We do not charge any additional fees for handling or packaging material.
Domestic orders within Canada over $99 are eligible for FREE shipping!