DESCRIPTION
Complete with all 9 essential amino acids, phytonutrients, minerals, omega-3 and fibre. CanPrev's Aquatein is an extraordinary single-source complete vegan protein. Featuring Lutein, a unique protein that is nutrient dense, highly digestible and sourced from sustainable duckweed. Lutein provides a fuller spectrum of essential and branch-chain amino acids compared to any other plant protein. No more protein pairing needed!
Features:

Non GMO
Sugar Free
Gluten Free
Soy Free
Vegan friendly
INGREDIENTS

Ingredients:
(1 scoop) LENTEIN® Duckweed Protein Powder (Lemna minor, wolffia spp.)  22g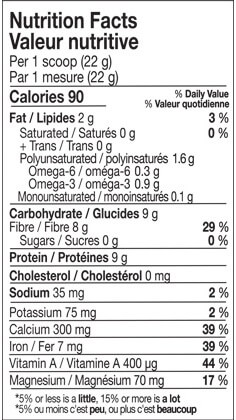 SUGGESTED USE

Blend, shake or stir it into your favourite beverage, smile, then drink in the possibilities for well-rounded health and a healthier planet.
We offer international shipping anywhere in the world. Shipping will be calculated based on shipment weight and size. We do not charge any additional fees for handling or packaging material.
Domestic orders within Canada over $99 are eligible for FREE shipping!